Good news—I won a book award this week: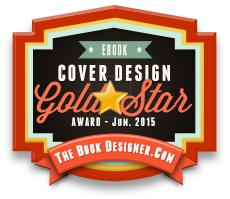 Hi Timothy,
Just letting you know that your submission, There and Back Again: A Decade of Travel Tales, has received a gold star in TheBookDesigner.com's June's e-Book Cover Design Awards.
Please accept our congratulations!  I've attached a badge that you might want to display on your website with a hyperlink to the post (http://www.thebookdesigner.com/2015/07/e-book-cover-design-awards-June-2015/) which features your submission. You may want to forward the badge and link to the e-book cover designer to display on her own website. Have a great day! (scroll to the bottom, Tim's book is the last entry). 

I was thrilled! I designed author Timothy Imhoff's ebook cover using his photograph from a trip to Africa. I encouraged Tim to 1) start with an ebook first and 2) enter TheBookDesigner.com's ebook cover contest, which is held each month.
1) Many first-time authors want to do both an ebook and print book, but not in that order. They typically prefer to do a print book first, then the ebook. Perhaps they like the tangible feel of a print book.
Why do I encourage authors to do an ebook first?
Ebooks are economical: It costs less to design a cover than to design an entire book.
Ebooks takes less time to produce.
The cost to publish an ebook is lower—no printing costs, shipping, etc.
An author can test market an ebook with readers. Are you getting positive reviews? Is your ebook selling?
All of this, of course, depends on book marketing. But, that's another blog post.
2) The Book Designer.com has an ebook contest every month. Tim's cover turned out well (some stronger word? Nice is bland), and I felt it had a good chance to win, as well as receive feedback from book-design expert, Joel Friedlander. There is no cost to enter the contest, but an author must follow the design-awards submission rules.  http://www.thebookdesigner.com/e-book-cover-design-awards-submissions/. Tim promptly submitted his ebook cover .jpg after the book went live on Amazon.
Both Tim and I were elated with the good news. He wrote, "Congrats! You earned a gold star! That doesn't happen every day." So true! How exciting for a first-time author to receive such an influential acknowledgment and wide-spread exposure. This is PR you could not buy.
A few benefits of hiring a book designer are: a top-quality product, professional guidance, and possible opportunity to win an award.
Let's talk about designing your ebook cover. View more book cover designs on our portfolio.
p.s. Thank you, Tim!